The Underground Technologies division of Yanora Enterprises specializes in line location and leak detection. Our 20 years of experience combined with the latest technologies assures precision.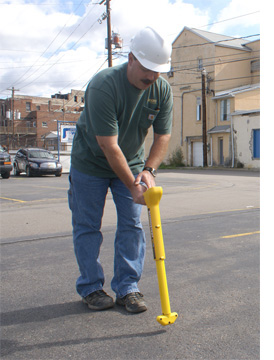 Water is precious. At Yanora Enterprises, we know that leaks can deplete our state's water supply as well as your pocketbook. We pride ourselves on high-quality, dependable service, and use the latest non-invasive, non-destructive detection technology. We have the experience and technology to handle all of your leak detection and line location needs.
Need to dig? Your pool is losing water? You've got a slab leak? You need a sewer line inspected? Not sure where the underground utilities are located? We take a systematic approach to each and every job, no matter the size, analyzing the whole plumbing system to pinpoint exact locations and breaks. It's the only way to ensure accurate, sound solutions and keep your repair costs to a minimum. Leaks that go unchecked can cause costly damage to pumps and equipment, raise your water bill and force you to add more and more chemicals just to balance the system. No amount of guesswork will find the leak on your pool, spa, or fountain. Our leak detection specialists test the entire system: structure and plumbing.
A high water bill, a mysterious sound, or puddling water may be your only clue that there's a leak. Like all good detectives, our leak technicians pull together all the clues and investigate thoroughly to resolve the problem. Whether we're working on a service line from meter to house, a commercial fire main, a hot or cold slab leak, a high-pressure irrigation main, or a gas leak, we aim for the highest level of accuracy.